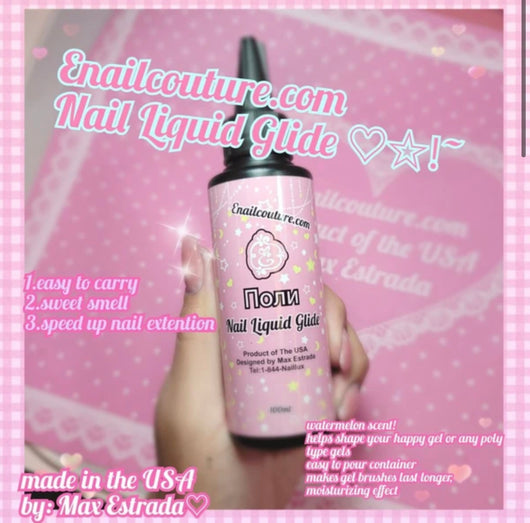 Nail Liquid Glide
Regular price $39.99 $24.99 Sale
Nail Liquid Glide (poly Nail Gel Slip Solution Kit Nail Liquid for Shaping Gel Nail Extension )
Description:
Enailcouture New Nail Liquid Glide Slip Solution With Amazing Watermelon Scent!
Helpful gel slip solution; bottles 100ml slip solution, work perfectly with acrygel happy gel or other poly extenesion gel;slip solution is a necessary tools to use for your poly uv gel nail application; multifunctional, widely-used in many nails art design.
Eco-friendly; help you effortlessly and smoothly spread and shape the poly uv gel;prevent the gel sticking to the brush, spatula or other nail art tools.
Sweet watermelon scent
Warm tips:since the nail slip solution is volatilizable, please allow some volume difference, and please seal it tightly every time after use.
Safety products this solution is applied externally and will not cause harm to your nails or body, so you can use it with confidence. Helps you easily place the uv gel in the right place to form the perfect nail.
Some warm tips.

1, Put The Lid On After You Use The Glide Slip Solution Since It's Volatilizable.

2, Keep The Brush Moist With The Glide Slip Solution, But Not Wet. Because Too Much Slip Solution Will Leave The Gel A Little Runny And Less Sticky. So It's Suggested To Wipe The Brush After You Dip It In Slip Solution.
All sales are final no exchange or refunds no exceptions please beware of the policy.