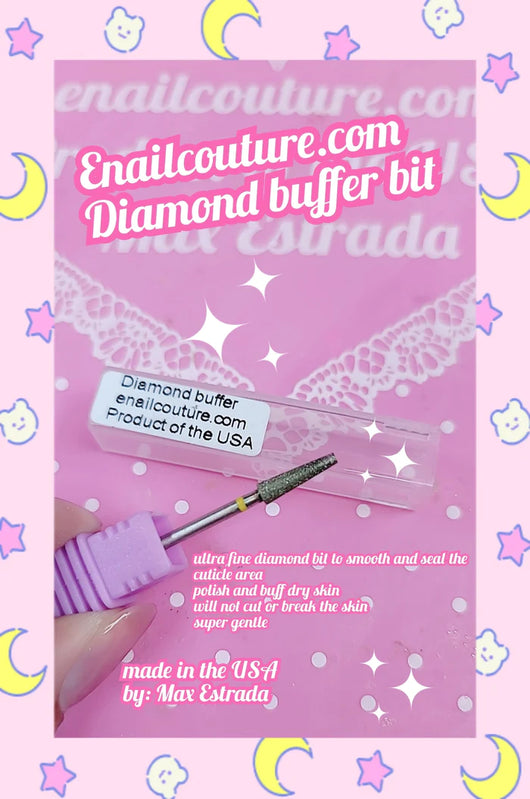 Diamond Buffer Bit
Regular price $29.99 $12.99 Sale
Enailcouture.ca new diamond buffer drill bit is a diamond ultra smooth bit for the perfect clean finish to the cuticle area!~
(4mm Long Tapered Barrel Cuticle Clean Nail Drill Bit 3/32'', Professional Safety Carbide Diamond Under Nail Cleaner for Cuticle Dead Skin Nail Prepare, Beginners Bits, Series Bit-S, Fine)
about this bit:
4mm Long Tapered Barrel Cuticle Cleaner Nail Drill Bit | Color: Silver | Grit:  ultra Fine  | Shank Size: 3/32'' | Two-Way Rotation | Left & Right Hand Use

Cuticle Cleaner Nail Drill Bit: Professional design for cuticle cleaning, sidewall dead skin removal, and nail preparation. Gently and effectively clean the cuticle and dead skin around without tearing the skin. Perfect manicure preparation tool for nail salons and professional nail techs.

Professional Carbide Diamond Nail Drill Bit: Made of premium strength carbide diamond material, this high precision machining nail bit comes with excellent heat dissipation, low vibration, low noise, and hard-wearing features. Perfect nail care tool for nail techs and nail enthusiasts.

Two Way Rotation: Designed to cut smoothly in clockwise and counter-clockwise directions for both two hands. Suitable for Left-handed or Right-handed use, can smoothly remove and file for flawless results.