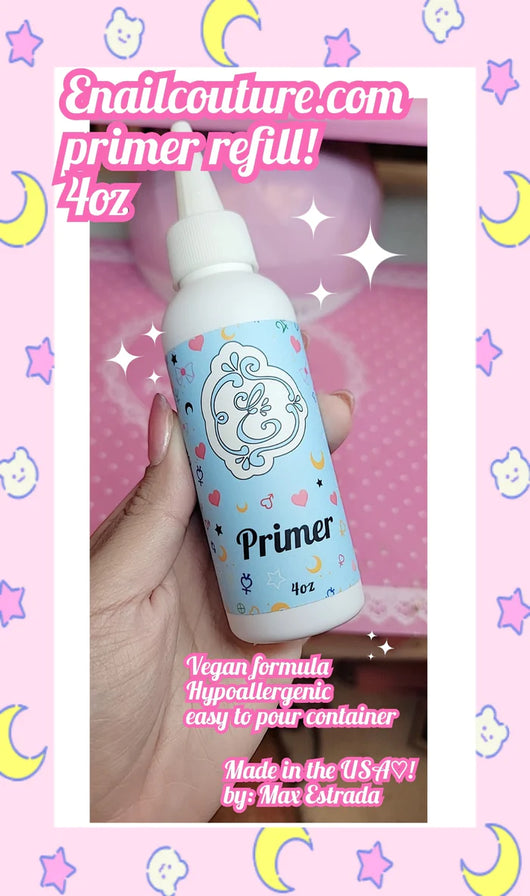 REFILL Primer (Professional Natural Nail Bond Primer,Nails Nail Protein Bond, Superior Bonding Primer 4oz 1PC For Gel Nail Polish,Adhesives Gel Polish Tips Gel System Manicure Tips Functional Use)
Regular price $49.99 $39.99 Sale
The non-acid formula of ENCP Primer offers unmatched adhesion using a protein bond to promote healthy nailbeds.
FOR STRONG ADHESION: The most important step in any professional artificial nail application is the preparation of the nail plate and to create a foundation.
NO LIFTING: When used together these high-quality products will prevent lifting and provide nails with the etch to help adhere to the natural nail bed surface.

BALANCE & PREVENT: Our Bond is perfect to reduce nail oil & to create a strong foundation! Use the Gel Polish Primer for an acid free nail base for gel application.

VERY COMPATIBLE with all gel nail, acrylic powder and liquid system, as well as any artificial nail art, and works great with all leading professional nail care brands in the market.
Features
Non-Acid
One coat application

Easy to apply smoothly,cover around the nails.
Benefits
Less Toxicity
Low Odor
10ml size 
Nail Primer is one of the most important substances that has an effect on longevity, of gel, gel polish and acrylic nail design. It removes grease and changes pH of the nail which enhances adherence properties of the product. It prevents the creation of air bubbles and helps to adhere design to a problematic nail plate.

made in the usa