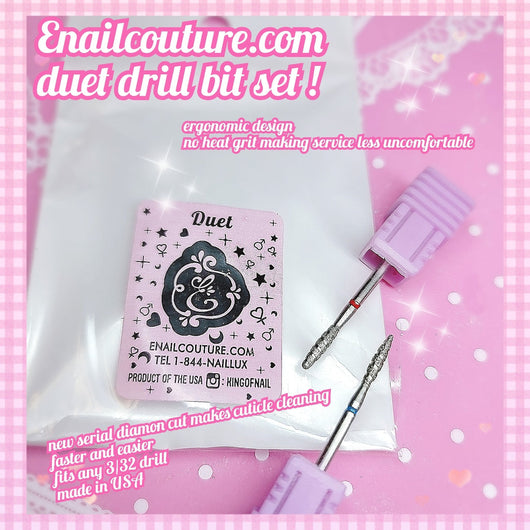 Duet Drill Bit Set
Regular price $24.99 $15.99 Sale
Duet diamond Russian manicure bit set (Flame Cuticle Drill Bit for Russian Manicure,Safety Diamond Nail Drill Bit,3/32 Electric Cuticle Remover Bit
Description:
Make Doing Cuticle Cleaning Faster And Easier!
1. Premium Quality Raw Material, Slow Heat Producing.
2. Uniform Grits, Less Uncomfortable.
3. Stainless Steel Shank, Durable & Washable.
4. Safe & Efficient Cuticle Pushing, Removing, And Nail Prepare.
New Duet, Diamond Nail Drill Bits Resistant To Acid And Heat.Improving Customers' Feel.Premium Diamond Nail Drill Bit Durability And Cutting Spectacular, Eye-Catching Appearance For Easy Identification.
3/32 Shank Diamond Bit .

These Bits Are To Clean Dead Skin On The Side Of Finger Nail,

Or Used On Dry Cuticle That Is Stuck On The Nail.

Safety: They Are Gentle, Smooth And Do The Job And Prevents Hangnails.

Suitable For Manicurist Or Beginner, Portable For Home Or Salon Use.
Safety,Run Smooth,Last Longer And Save More Time

Amazing Tools With Higher Hardness And Durability
all sales are final no exchange or refunds beware of the policy before buying