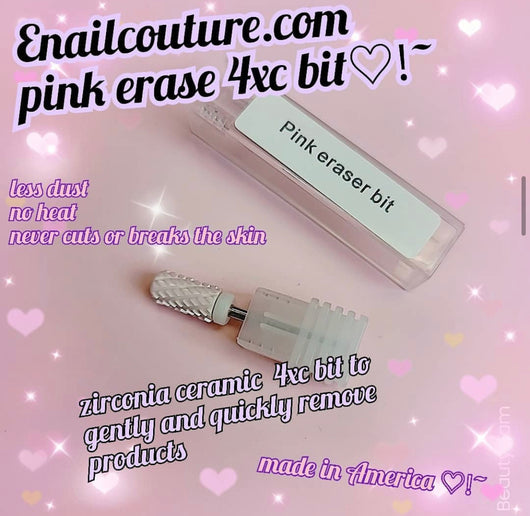 Pink Eraser Nail Drill Bit
Regular price $49.99 $37.99 Sale
 The newest addition to the pink bits by Enailcouture  
PINK ERASER 
Size 3/32" Professional High Quality - Top Small Barrel Pink Ceramic

Color: Pink, Grit: 4XC (4 EXTRA COARSE)

Length: 38.1mm

Shank Size: 3/32"

Designed To Be Used On Thick Gel Nail Applications And Hyper-Keratosis

Perfect Use For Remove Acrylic And Hard Gels, bulky nails , 123go nails.  
100% Brand New US Made High Quality Ceramic
Excellent Durability And Cutting Performance
Suitable For Professional use.

Long Lasting 2 To 3 Times Longer Than Normal Carbide Bits.
Protects The Skin And Prevents Damages To Cuticles And Protect Your Natural Nail.
Fits Most Nail Drill Machines That Use 3/32" Bits.
Easy To Clean: The Nail Drill Bits Are Corrosion Resistant, As Well As No Clogging For Nails.
Protect The Bits After Each Use, Keep You And Your Nails Healthy.
Dip the bits in acetone for at least 10 minutes this will  unclog any build up on the bits cuts.
do not brush the bits with metal brushes
rinse and use a disinfectant.