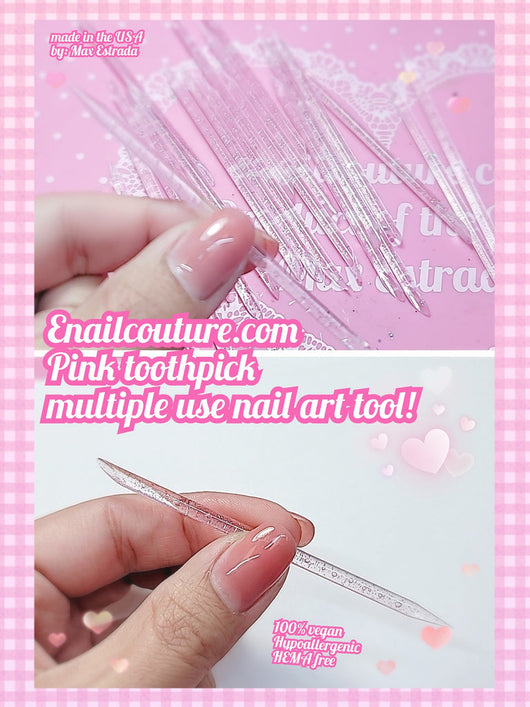 Pink Toothpicks
Regular price $29.99 $18.99 Sale
100 PCS Disposable Nail Stick Cuticle Pusher bulk, Nail Care Sticks, Cuticle Manicure and Pedicure Stick for Fingernail, Cleaning Cuticle Stick Pink
Description:
Enailcouture.com New Pink Toothpick Multiple Use Tool !~
2-in-1 cuticle pusher with multi-functions : our disposable nail sticks are beveled on one end and pointed on the other, help keep your manicure and pedicure looking fresh. The pointed end can be used to carefully scrape and clean around or under the nails. The beveled end can be used to gently push back and shape your cuticles.
Stylish crystal handle : if you are tired of orange sticks for nail, you must try these cute crystal nail sticks. Glitter, shining and colorful handle like as crystal, our nail cleaner sticks are more durable than wood handles, also match your fashion purse. These crystal nail cleaner sticks will be a chic nail stick for makeup artists, makeup lovers and makeup beginners.
Hygienic nail art tool : ladies are all crazy about funky and quirky nails. So if you are a huge fan of doing different nail art designs everyday, then you need our disposable nail stick. 100 pcs nail cleaner sticks is definitely enough for use, you also can share with your friends, family and art nail art lovers. Ideal for makeup artists in need of nail stick to use on clients. Instead of splurging for expensive nail art tools, use our vaincre nail stick to paint thin line.