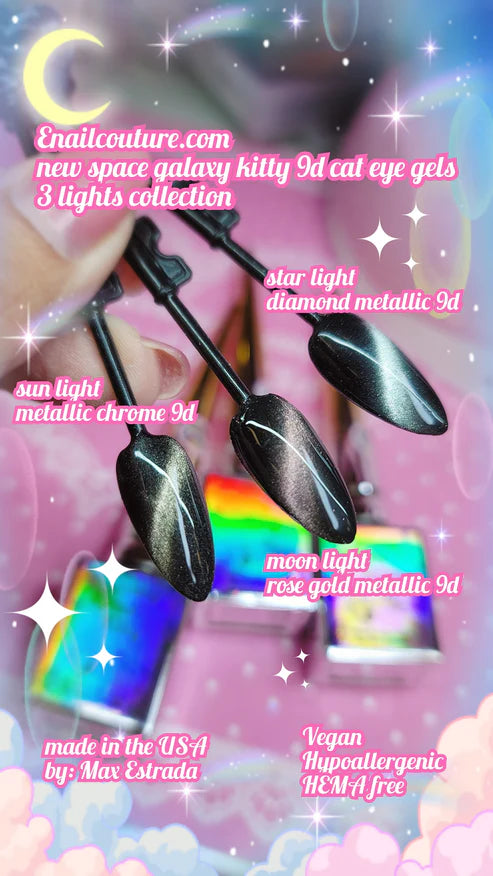 3 Lights space galaxy kitty set of 3 (9D Wide Cat Eye Gel Nail Polish)
Regular price $84.99 Sale
New space galaxy kitty 3 lights series 9d cat eye gels!~
star light- diamond metallic 9d cat eye

moon light- rose gold metallic 9d cat eye
sun light- metallic chrome 9d cat eye
About this item:
9D GALAXY GEL POLISH: 10ml 9D Galaxy Cat Eye Nail Gel Polish needs to be used with our pink magnet set for best results

New trendy 9D cateye gel nail polish. Making galactic effect, auroras effect, black hole effect on your nails, different colours from different angles. A marvelous gel polish set to your nail art collection.

HEALTHY-INGREDIENTS AND LONG-LASTING: The gel polish uses healthy ingredients, it's non-toxic, low-odor, and low-irritation. This will reduce damage to your nail bed! With a proper application, it will last for 21+ days.

WARM TIPS:You need to use some skills to apply this 9D cat eye gel nail polish, as for beginners, we suggest you can learn more about from videos, the practice can get a satisfying effect.

vegan, hypoallergenic and HEMA FREE!