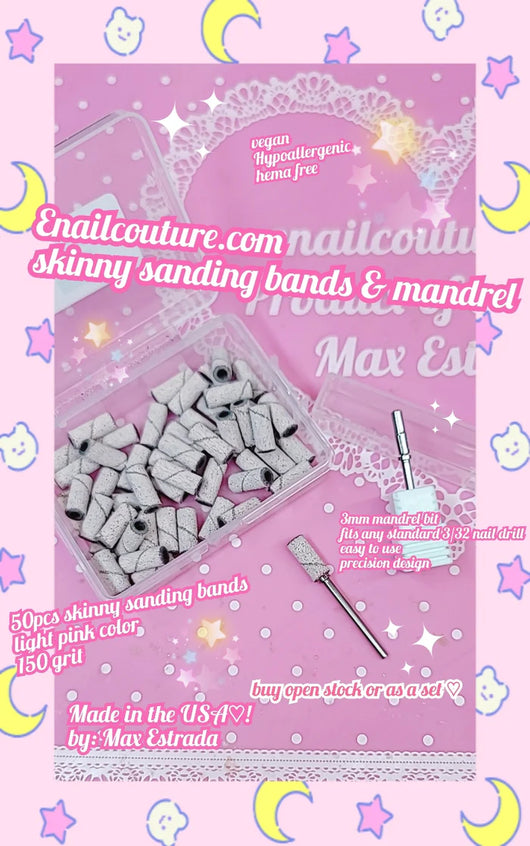 Pink Sanding Bands & Skinny Mandrel Bit ( Professional Sanding Bands Nail Manicure 150 Grit File Sand Piece Set For Nail Drill Bits)
Regular price $29.99 $21.99 Sale
Enailcouture.ca new skinny sanding bands!~
new 3mm size, super skinny deign lets you get every inch of the nail and cuticle area ready for the fantasy!
About this item:
skinny mandrel and sanding bands are sold separately or as a set, use drop down menu to make your selection !
Upgraded 50 Pcs #10 Grit File Set: Enailcouture.com sanding bands are designed with durable material. 150# comes with a smooth surface and it will perfect on the natural nail and cuticle with your file's low speed.

Superior Quality and Saving Your Money: High hardness, durable, and abrasion-resistant. Durable senior material and will not fall apart during use and suitable for nail salon, beauty parlor, spa or personal manicure pedicure, DIY nail art at home.

Multifunctional: The sanding band mandrel is designed to be suitable for most size 3/32" nail drill machine, which is used for grinding, smoothening, shaping, shortening and polishing for all nail arts as well as cuticle removal.

Easy to Use For Beginner: To select a sanding band in place over the mandrel bit and gently apply pressure to the surface of the bed. It is suitable for manicure as well as pedicure. Working on natural nails as well as artificial nails.

Portable and Light: It easy to carry and portable to bring it out. You can use it for your nail artwork anytime anywhere. It is professional for both home and salon use.

made in the usa !