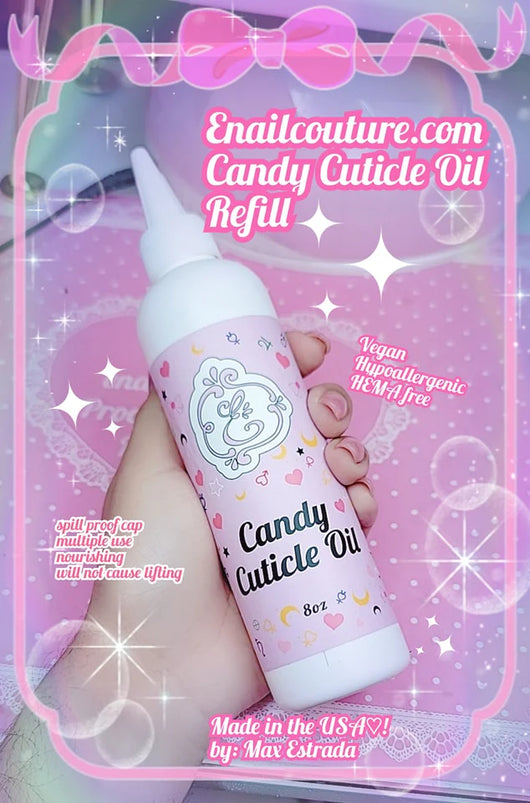 Refill Candy Cutie Cuticle Oil ~! (Cuticle Oil Vitamin E Vitamin B Nail Strengthener Cuticle Revitalizing Oil-Nourish, Soothes, Nourishes and Moisturizes Dry Nails and Cuticles)
Regular price $59.99 $49.99 Sale
❤CUTICLE OIL: cotton candy cuticle oil is a great choice to keep your nails shining and protect the nail cuticle.  It can be used for gel nail polish/dip powder/poly nail gel/acrylic powder.

❤natural ingredients 

❤AMAZING EFFECT: The nail cuticle oil will give a wonderful and comfortable shine when you apply it on your nails.

Features:

Protect Nail giving a healthy luster

Rich in vitamins, can moisturize the skin

Suitable for professional, nail salon, nail art artist and

personal / home use, wholesale, etc.

CUTICLE OIL

HOW TO APPLY THE CUTICLE OIL

1. Wash your hands and wait for them to dry completely.

2.Use a wooden stick or a cuticle pusher to push them back

3.Gently shake the cuticle oil.

4.Apply a little oil on your cuticles and the skin around your nail bed.

5.Massage for 30-60s so the oil will be fully absorbed.

6.We recommend to apply it once a day. If your cuticles are damaged, it is better to apply it two or three times a day.
Features
Essential Oils
Use Daily
Jojoba Oils
Candy Aroma/Cute Pink Color
Benefits
Penetrates for Skin Repair
Moisturizing Base Oil
Maintain Flexibility of Skin
Pleasant Scent
Great Retail Item