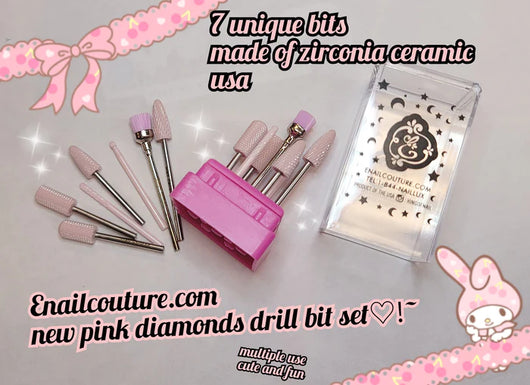 NEW Pink Diamond Nail Drill Bit Set ! ( 7pcs Nail Drill Bits for Acrylic Nails - 3/32 Professional Ceramic Nail Drill Bit Set for Cuticle Acrylic Gel Nail Polishing Manicure)
Regular price $139.99 $109.99 Sale
THE BEST OF ALL THEY ARE PINK!
pink ceramic nail drill bits suitable for most size 3/32" nail drill machine. Suitable for nail salon, beauty parlor, spa or personal manicure pedicure, DIY nail art at home.It is fun and happy to apply nails at home with family and friends.

Multitude of uses – Nail drill bits for acrylic nails cuticle, polishing, smoothing, shaping, cleaning and more. Shape your nails to perfection with the nail drill bits.

Premium Ceramic Material - Made of superior ceramic material, these nail art tools are hard-wearing, sharp and durable and also crafted with delicate. With an excellent heat dissipation, the bits won't be burning hot during long-time use like metal ones.

Easy to Clean and Safe for Nails - The ceramic is corrosion resistant, as well as no clogging for nails. The smooth surface is easy to be cleaned with water after each use, It is so important to keep your and your client's nails healthy.
This bits are the best in the world, they do not heat up, produce less dust and feel different, your clients will be able to tell because the bit does not rust or produce heat making their service more enjoyable.
No sharp edges so the clients will never get cut or hurt. They last much longer than any other material and can be used on any type of nail service like gel, acrylic and natural nails!~
The set includes The smooth top Barrel, pink rocket, pink carat, and Cuticle drill bits.
*FREE case ~!
*pink diamonds drill bits are size 3/32