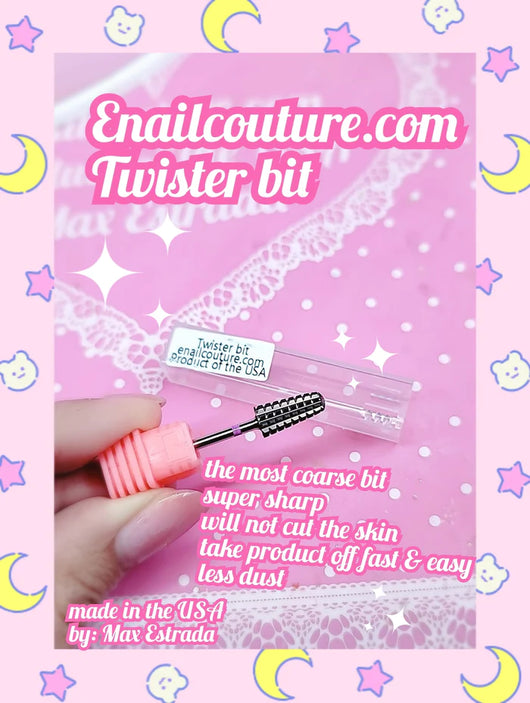 Twister Bit (Nail Carbide Volcano Bit - Two Way Rotate use for Both Left and Right Handed - Fast remove Acrylic or Hard Gel - 3/32" Shank - Manicure, Nail Art, Drill Machine 5x Coarse, Silver)
Regular price $39.99 $31.99 Sale
Enailcouture.ca new twister is the most coarse/sharp brill bit enailcouture.com manufactures. The fastest, most easy way to remove product!
About this item:
Quantity: 1 piece | Color: Silver | Grit: 5X Coarse | Size: 3/32" Shank | Measurement: Length: 1.50" | Barrel Height: 0.60" Width: 0.20 | Design: 2 Way twister Carbide Bit

Enailcouture.com 3/32" Shank 2-way twister Carbide Bit is made of a american steel material. This material is one of the hardest metal, making them suitable for a variety of manicure purposes. They are built to last and are sturdy and durable and with a powerful cutting ability it makes your manicure easier and saves your valuable time.

enailcouture.com twister Carbide Bit has a 2-way rotation function both for right and left-handed users giving you a flawless and easily handling when in use. Unique 2-way rotation design makes it cut smoothly in clockwise and counterclockwise directions for both two hands.

It is designed to have a sharp straight teeth line enabling fast removal of hard gels, poly type gels, acrylic, dip powders and removes rhinestone and any nail art designs makes it suitable for personal and ideally used by professional nail techs.

This 2-way Volcano Carbide bit is highly advised to clean each after use, with good care and proper cleaning of this carbide bit with warm water. It is important to practice a proper hygiene and sanitation for your and your client's nails health.