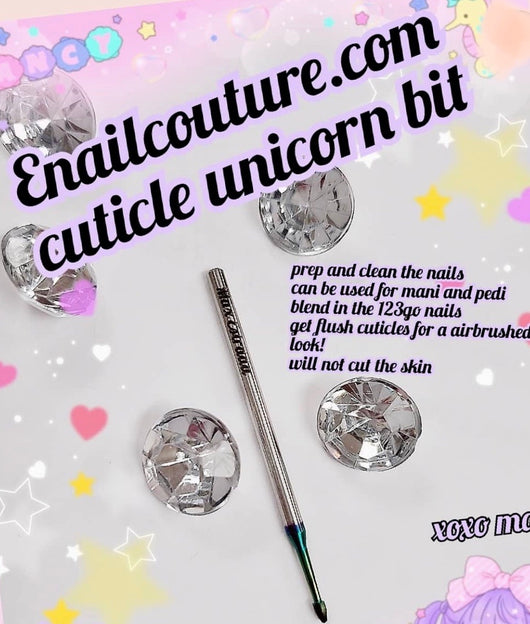 Unicorn Nail Drill Bit
Regular price $39.99 $27.99 Sale
This amazing bit was designed by
Lucy Frank knowing the demand for cuticle bits and how important is to have the right tools we came up with this awesome unicorn bit .

Use For
1.EASILY GET TO THE CUTICLE AND SIDEWALLS WITHOUT DAMAGING THE NAIL.
2.GREAT FOR INFILL CUTICLE WORK.
3.SURFACE WORK ON SMALLER NAILS AS WELL
4. REMOVE DIRT FROM UNDERNEATH THE NAIL.
PERFECT FOR NAIL SALON, PROFESSIONAL NAIL ARTISTS, MANICURE PEDICURE,REMOVE DEAD SKIN ETC.
*ALL ENAILCOUTURE DRILL BITS ARE SIZE 3/32
100% BRAND NEW IN RETAIL PACKAGE, MADE OF USA CARBID

EXCELLENT DURABILITY AND CUTTING PERFORMANCE

CLEAN AND DISINFECTANT SAME AS CERAMIC BITS BY ENAILCOUTURE