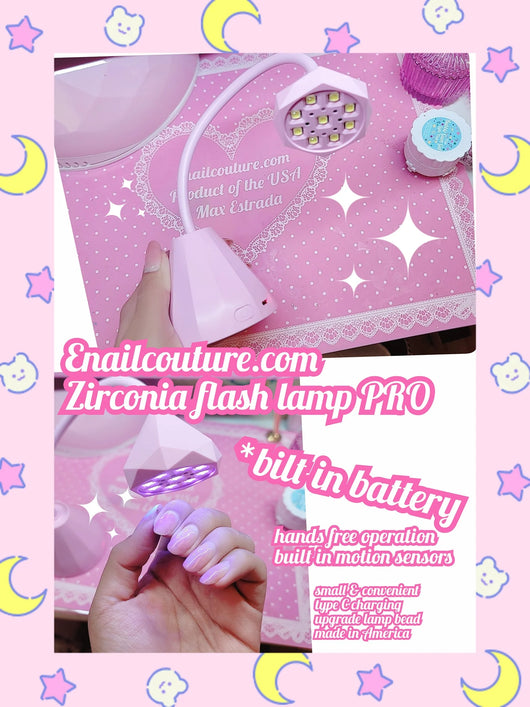 Zirconia Flash Lamp (flash Cure Lamp for Gel Nails - Big Chip 395nm Cordless Gel Lamp 21W, Mini UV Light for Nails, Gooseneck UV Nail Lamp, Quick Dry Nail Art Curing Lamp Professional Gel)
Regular price $59.99 $39.99 Sale
About this item:
❤【PORTABLE 123go gel LAMP】enailcouture.com zirconia  lamp for gel curing comes with a novelty zirconia head, it can cure the gel evenly without dead zone. Our nail lamp is designed with a 360-degree rotatable neck, which can be freely bent and adjusted to any angle, giving you great flexibility to cure different nail manicures. With this special design, our zirconia nail lamp is user-friendly and hands-free, convenient to operate, especially for nail tips and glue gel kits.

❤【DUAL LIGHT SOURCE & QUICK DRY】enailcouture.com zirconia  led lamp for gel nails has seven U V LED dual light source lamp beads and nail led lamp with stand, which help your nail art dry out quickly and efficiently. The flash cure light for nails supports all types of manicure and nail art, including nail glue gel, builder nail gel, painting gel, gel nail polish, etc. With our U V LED nail lamp, you can get your nail manicure done quickly.

❤【PREMIUM QUALITY & SAFE】Enailcouture.com zirconia light nail dryer is made of sturdy and tough silicone tube and high-quality ABS material, so it is strong, wear-resistant and durable. With gentle U V and LED dual light sources, the nail lamp will not cause damage to your eyes and skin. The default time is 60s, and it will turn off after 60s automatically, so the nail led lamp is safe to use for gel nail polish, nail tips and glue gel kit.

❤【RECHARGEABLE】zirconia flash cure light for nails has a built-in long-lasting battery, which can be used for both charging and plugging. It can be on for 2 hours when fully charged and 8 hours for ordinary nail manicures. With Type-C interface and USB charging port, U V LED nail lamp can be conveniently connected with a computer, power bank charger and power supply.

❤【WARM TIPS & BEST SERVICE】Please read zirconia nail lamp instructions carefully before use. Note: If you find the lamp is not working, please charge it for a while and try again as it may cause by the low battery.
Warm Tips:
1. Do not allow water or any liquid to enter the nail lamp, or it may not work.
2. Store the lotus nail lamp in a cool place and avoid direct sunlight.
3. Your eyes should not look directly at the light of  LED nail lamp for a long time.
4. If the nail lamp will not be used for a long time, please unplug the charging cable and put it back in the box to prevent dust from falling into the product.
5. If the USB cable is damaged, please do not use it to avoid potential risks.
6. The nail lamp has a factory power of 60-80%, please use up the factory power when you are first time use, and then use it with a full charge to maintain battery life.
7. The  LED nail lamp can be fully charged in about 2 hours, and cannot be charged for more than 8 hours.
8. The indicator light is red when the nail lamp is charging, and blue when it is fully charged.
9. The battery of the nail lamp is rechargeable, not removable.
10. It is recommended to cure 1-2 fingers each time with the zirconia nail lamp for better manicure results.
11. If you find the lamp is not working, please charge it for a while and try again as it may cause by the low battery.